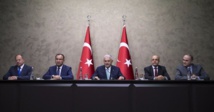 Ekrem Imamoglu, 49, of the secular Republican People's Party (CHP), won the Istanbul mayoral election on March 31, defeating Binali Yildirim, 63, of the ruling Justice and Development Party (AKP) by 13,729 votes.
The Supreme Electoral Council (YSK) annulled the vote on May 6, in line with a demand from the Islamic-conservative AKP, which alleged irregularities, and ordered a rerun for June 23.
The decision, which sparked peaceful protests in the city of 16 million and drew condemnation from foreign allies around the state of democracy and rule of law in Turkey, propelled Imamoglu onto the national stage.
The soft-spoken, mild-mannered, little-known mayor from the Istanbul district of Beylikduzu was suddenly seen as a political force to contend with, perhaps even a challenger one day to President Recep Tayyip Erdogan.
Turkey's "survival was at stake," Erdogan thundered on the campaign trail before nationwide local polls in March. He called the Istanbul rerun ruling an "important step in strengthening our democracy."
In contrast, Imamoglu rallied on a platform of optimism and love, vowing to tear down the walls of populism. Unbowed even in defeat, when his term as mayor abruptly ended after 18 days, he soothed his supporters, saying "everything is going to be just fine," which instantly became the CHP's new catchy campaign slogan.
Erdogan can't afford to lose this election, even though he isn't on the ballot. Istanbul has been ruled by Islamic conservatives for 25 years. It's the city that launched his political career by picking him as mayor in 1994. He once said that whoever loses Istanbul, loses Turkey.
As the driver of Turkey's economy, Istanbul is also home to lucrative multi-million-dollar infrastructure projects and contributes a third of the country's GDP.
AKP insiders say, however, that even intra-party polls a week before the election show Imamoglu ahead.
Erdogan, who held up to eight rallies a day in Istanbul in March, has slipped into the shadows. Analysts say he's insulating himself in case the AKP faces a second bruising defeat, to let Yildirim take the fall.
"Imamoglu's re-election chances largely depend on how much the AKP is prepared to cheat and how much cheating it can get away with," Wolfango Piccoli, co-president of research firm Teneo Intelligence, said last week.
But Mustafa Koksalan from independent election monitor Oy ve Otesi, which will deploy thousands of observers across the city, told dpa that "it is very difficult to cheat in Istanbul, because there are so many people looking after their votes."
Any attempt at fraud would also be stymied if Imamoglu pulls ahead by a vote share massive enough to render fixing the result impossible, several analysts have said.
Mehmet Gunal Olcer, the head of pollster Polimetre, said he expects Imamoglu to win by a margin of 500,000 to 1 million votes this time, if the pro-Kurdish Peoples' Democratic Party (HDP) and Kurdish voters "have the same stance as on March 31."
Mehmet Ali Kulat of MAK polling agency considers a key factor to be conservative Kurdish voters, the first and second generation of families displaced by fighting with the insurgent Kurdistan Workers' Party (PKK) and forced to move to Istanbul.
While they have traditionally voted for Erdogan's party, "they boycotted the March elections because they don't like the AKP's recent policies against the Kurds," he told dpa.
Many Kurdish voters have also been alienated by the AKP's alliance with the far-right Nationalist Movement Party (MHP).
Still to play for are 1.7 million people who did not vote in March, among them disillusioned AKP voters frustrated by the economic downturn and the party's divisive politics.
According to state news agency Anadolu and broadcaster NTV, 8.86 million of Istanbul's 10.57 million eligible voters exercised their franchise in March.
On June 16, Turks witnessed a rare event - a televised debate between former premier Yildirim and Imamoglu. The first such debate in 17 years was broadcast on all networks in a country where the ruling party overwhelmingly controls the airwaves, leaving the opposition to resort to social media campaigns.
During the three-hour-long duel, both acknowledged the city's economic troubles, promised to create more jobs and green spaces, and pledged to ease traffic congestion.
While there are 19 other candidates standing for mayor, the real battle is between Imamoglu and Yildirim.
Polling company ORC put Yildirim in the lead by 48.3 per cent, ahead of Imamoglu at 47.7 per cent, after interviews last week with 6,580 respondents.
Gezici polling said it wasn't publishing its results because of the politically charged atmosphere.
"The polarization is so strong that even brothers, spouses and lovers are hostile to each other," owner Murat Gezici told dpa, calling the situation "irreparable."
Hours before the TV debate, Erdogan said that whoever respects democracy must be satisfied with the result on Sunday.
"Whatever the result, Turkey will, God willing, win," he said, while downplaying it as "just" a mayoral election.
"This election may also serve as the ultimate litmus test for what's left of Turkey's democracy," according to Gonul Tol, director of the Middle East Institute's Turkish studies programme. "Istanbulites are not only picking a new mayor for their city, but also a future course for their country."