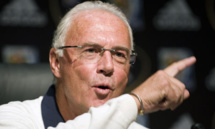 Breitner has been banned from the VIP stand in Bayern's Allianz Arena by Hoeness, the Bayern president, for publicly criticizing a press conference last month.
"I hope the two come together again. That should be possible between two grown-ups," Beckenbauer, 73, told Wednesday's Bild newspaper.
"Of course, if I can help I'm ready."
Bayern board member Jan-Christian Dreesen has confirmed the decision to ban Breitner for "his more than disparaging remarks" which had followed a news conference by Hoeness and club chairman Karl-Heinz Rummenigge.
The two club bosses were roundly criticised for the October 19 press conference in which they attacked media coverage of Bayern. Breitner was also critical in an interview during a Bayerische Rundfunk sports programme.
Hoeness, 66, and Breitner, 67, have been friends since playing together for Germany and Bayern and once shared a flat as young players. Together, along with Beckenbauer, they won the European Championship in 1972 and World Cup in 1974 with West Germany, and the European Cup with Bayern in 1974.
Breitner told Bild he had now decided to return the two season tickets he receives as a lifetime honorary Bayern captain.
"I don't want to give the impression I want free tickets," he said.