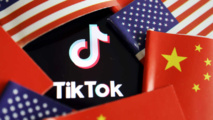 In response to a reporter's question, a spokesperson for China's Ministry of Commerce said the move "seriously damages the lawful rights of the companies involved [and] disrupts the normal order of the market."
The spokesperson said the US aimed to "hunt and suppress" the firms "without evidence" and urged Washington to "reject bullying behaviour and immediately halt their wrongdoing," warning that Beijing will otherwise respond with "necessary measures" to protect Chinese interests.
In a statement released on Saturday, WeChat's parent company Tencent said it had "put forward a comprehensive proposal to address" the US government's concerns, and said it "will continue to discuss with the government and other stakeholders in the US ways to achieve a long-term solution."
The ban, ordered by US President Donald Trump citing national security and data privacy concerns, is currently being challenged in a suit by TikTok owner Bytedance.