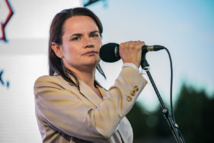 Belarusian presidential runner-up
"Svetlana Tikhanovskaya is safe. She is in Lithuania," Linas Linkevicius tweeted.
Protests broke out in Minsk, after a wave of arrests throughout Belarus following the landslide victory of incumbent Alexander Lukashenko in an election many say was rigged.
One demonstrator died from severe injuries after an explosive device detonated in his hand, according to authorities in Minsk.
Early official results show Lukashenko heading for about 80 per cent of the vote, although the outcome was rejected by Tikhanovskaya.
Lukashenko, 65, has led the former Soviet republic in Eastern Europe, between Russia and EU member Poland, for a quarter of a century, tolerating little dissent.
Two of Lukashenko's strongest political challengers, including Tikhanovskaya's husband, were jailed in the run-up to the election.
The voting was not independently observed by the Organization for Security and Cooperation in Europe (OSCE), and since the polls the voting process has been criticized by officials in Europe and the United States.