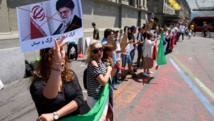 Brussels -
By Helen Maguire,
-
Belgian authorities have arrested a couple suspected of planning a terrorist attack on a large gathering in France organized by an Iranian opposition group, the federal prosecution and state security services announced on Monday.
The couple, identified as Amir S and his wife Nasimeh N, are Belgian nationals of Iranian origin.
They are suspected of planning to plant a bomb at the gathering in Villepinte, in the north-eastern suburbs of Paris, on Saturday, attended by 25,000 people. It was organized by the People's Mujahedin of Iran, an opposition group banned by Tehran.
The couple were placed under arrest on Monday and charged with attempted terrorist murder and the preparation of a terrorist offence.
They had been stopped in their Mercedes car by special police units on the outskirts of Brussels. Around 500 grams of explosives and a detonator were found in a toiletry bag in the car, the federal prosecution and security services said in a joint statement.
The explosive known as TATP, a formation of acetone peroxide, was detonated in a controlled blast. Five houses were searched on Saturday in locations across Belgium.
A suspected accomplice, identified as Merhad A, was detained in France, according to the statement. In Germany, a man known to the couple - an Iranian diplomat working for the Austrian embassy in Vienna - was also taken in for questioning.
A judicial source in Paris said that French authorities had arrested three people on Saturday.
They were still being held for questioning on Monday afternoon and investigators were seeking to establish what links they might have with the suspects arrested in Belgium, the source added.
Thanks to the cooperation, a terrorist attack was prevented, the Belgian statement said.
But Iranian Foreign Minister Mohammad Javad Zarif, travelling in Switzerland and Austria along with Iranian President Hassan Rowhani, took to Twitter to express some misgivings.
"How convenient: Just as we embark on a presidential visit to Europe, an alleged Iranian operation and its 'plotters' arrested," he wrote.
"Iran unequivocally condemns all violence and terror anywhere, and is ready to work with all concerned to uncover what is a sinister false flag ploy," he added.