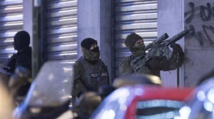 On Tuesday morning, the assailant attacked and killed two police officers as well as a 22-year-old man in the eastern Belgian city, 100 kilometres from Brussels.
He started his assault by stabbing the policewomen, aged 44 and 54, several times with a knife from behind, before taking their service weapons to kill them.
"These first elements have to be understood as the modus operandi regularly shown on the internet by IS [Islamic State] in their video messages," said prosecution spokesman Eric Van der Sypt.
During his rampage, the man shouted "Allahu Akbar" (God is great) several times, Van der Sypt told journalists at a press conference.
The perpetrator had been in touch with radicalized individuals in 2016 and early 2017, the spokesman said, citing information from Liege police and the state security service. Further contacts have not been confirmed since, he added.
The attacker has been identified as Benjamin H, a Belgian national aged 31. He had several run-ins with the law from an early age and had been sentenced for thefts with violence, drug abuse and insubordination.
He carried out the attack after being released from prison for temporary leave on Monday morning. He was due to return on Tuesday at 7:30 pm (1730 GMT).
After killing the police officers, Benjamin H stepped into a nearby bar several times but left again immediately since nobody could be seen, "thanks to the wakefulness of the barkeeper," the prosecution said.
During the rampage, he shot and killed his third victim, who was sitting in the passenger seat of a car, and also fired at another car, before walking into a high school where he took a woman hostage. From there, he shot at police officers, injuring four, before he was gunned down.
The police intervention had "possibly prevented an even more consequential outcome," Van der Sypt said.
The investigation is now focusing on whether Benjamin H acted alone. SITE Intelligence Group, which tracks online activity of jihadist organizations, said on Wednesday that Islamic State mouthpiece Amaq Agency had described the attacker as a "soldier of Islamic State."
Benjamin H is also suspected of manslaughter in relation to the death of a man late Monday in a suburb of Marche-en-Famenne in south-eastern Belgium, where Benjamin H was in prison, the prosecution said.
Earlier, Belgian Interior Minister Jan Jambon said he had killed the man, during an interview with the RTL broadcaster.
Radicalization was a possible motive for the Liege attacks, Jambon told RTL. "But maybe also because he had no more perspective in our society, because he had committed a murder the previous night," he added. The man appeared to have been killed by a blow to the head.
The killed man had previously been convicted for drug trafficking crimes, Belga reported. He had served time alongside Benjamin H, according to RTL.
Belgium's state of alert has been kept at level 2, out of a maximum of 4.
The country was shaken by terrorist attacks in 2016, when 32 people were killed in suicide bombings in Brussels' international airport and an underground train in the capital.