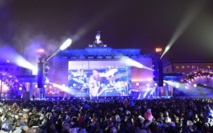 Bonnie Tyler, DJ Bobo, Alice Meron, Nico Santos and Eagle Eye Cherry are all set to perform at the German capital's celebrations Monday night, with a fireworks and laser display to take place at midnight.
Revellers will have to undergo increased security checks this year and private fireworks, bottles, sharp objects and large bags will be banned. Alcohol will also only be available from approved stands.
On Monday the area will be largely cordoned off and between 500 and 800 employees from private security firms will be deployed. There will also be almost 1,400 professional and volunteer firefighters.
Hospitals are also preparing for a busy night. Fireworks are generally only available in Germany around New Year and are only allowed to be set off by private individuals on December 31 and early January 1.
On New Year's Eve the streets of Berlin are filled with Germans setting off fireworks, sometimes from beer bottles or their bare hands.
Berlin's ukb accident and emergency clinic in Marzahn says serious injuries from fireworks have been increasing in the last few years, adding it would have eight operating rooms at the ready on New Year's Eve.