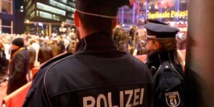 While the majority of rallies for International Workers' Day pass off peacefully in the German capital, riots have been occurring in the Kreuzberg district since May 1, 1987, with left-wing extremists and drunken rioters attacking the police.
A total of 5,300 officers are being brought in from across Germany to deal, primarily, with any incidences of violence.
While the riots have become less violent in recent times, extra caution is being urged this year.
The situation is perhaps a bit more difficult than last year, said Interior Senator for Berlin Andreas Geisel on Friday.
Experts think that left-wing extremist groups are more unified this year, with the ongoing Turkish campaign against the Kurds in northern Syria also said to have an influence on the demonstrations.
Police would act forcefully against any crimes committed, said police chief Barbara Slowik.