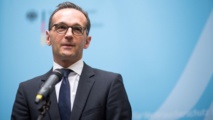 "We will not be able to work miracles, but we will do our best to do everything possible to avert failure," Maas said after a two-hour meeting with his Iranian counterpart, Mohammad Javad Zarif.
Zarif said the current tensions had been triggered by "the trade war of [US President Donald] Trump against Iran," and that de-escalation could only be achieved if Washington ended that "war."
Tehran is at the centre of a flurry of diplomatic activity this week, with Maas and Japanese Premier Shinzo Abe among the visitors seeking to prevent escalation as Iranian leaders start reciprocating the exit from the deal announced by the US one year ago.
International Atomic Energy Agency (IAEA) chief Yukiya Amano confirmed that Iran has boosted the output of its uranium enrichment facility - as Tehran had announced last month in the wake of its decision to gradually leave the agreement.
"The pace of production is increasing," he told reporters, citing recent measurements collected by IAEA inspectors in Iran.
However, it is not clear when Iran's stock of enriched uranium will exceed the limit set by the 2015 nuclear pact because production is fluctuating, Amano added, indirectly confirming that there has been no breach yet.
The 2015 nuclear pact seeks to keep Iran's enriched uranium stock low, as the material can not only be used to fuel reactors, but also for nuclear warheads.
Maas' visit came about a week after US Secretary of State Mike Pompeo said that the United States "are prepared to engage a conversation with no preconditions," while adding that Washington's goal is to reverse "the malign activity" of the Islamic Republic.
"We know that there are economic advantages that were promised to Iran and that are difficult to realize without the Americans," Maas said in Tehran earlier in the day.
"But I think there are also political and strategic interests in maintaining this agreement and thus the dialogue with Europe. That must also be recognized in Tehran."
Last year, US President Donald Trump pulled out of the nuclear deal - negotiated under his predecessor Barack Obama and aimed at preventing Tehran from developing nuclear weapons - and tightened sanctions on Iran's oil and banking sectors.
The move increased economic pressure on Tehran and placed European countries eager to uphold the deal in a bind.
Last month, Rowhani said that Iran would also begin partially withdrawing from the nuclear deal, citing the US exit and the sanctions.
He set a deadline of July 7 for the remaining signatories - China, Russia, Germany, France and Britain - to guarantee the deal's economic benefits for Iran and neutralize US sanctions. If there is no movement, Iran will begin its second phase of its exit, which entails enriching uranium above the limit agreed in the deal.
Iranian Foreign Ministry speaker Abbas Mousavi reiterated Monday that Tehran was serious about pulling out, ahead of the meeting with Maas.
"Until now, our various deal partners have not fulfilled our expectations," he said. "In case nothing happens before the deadline, we will go forward with the next phase of the pullout."
Mousavi added that Zarif would underscore this in his meeting with Maas.
Tensions between the United States and Iran have flared up in recent weeks after Washington dispatched a carrier strike group and a bomber task force to the Gulf.
The US has also accused Iran of responsibility for attacks on four tankers docked off the Emirati port city of Fujairah last month, while Tehran has denied responsibility and said the attacks were aimed at stirring tensions in the region.
US officials have indicated they perceive Iran and Iranian allies as a threat to their interests in the wider Middle East.
In Vienna, UN nuclear chief Yukiya Amano said that the 2015 nuclear deal has given international inspectors much better access to probe the Islamic Republic's nuclear activities.
"I therefore hope that ways can be found to reduce current tensions through dialogue," the International Atomic Energy Agency (IAEA) chief said, adding that it is essential that Iran keeps implementing the pact.
Notepad