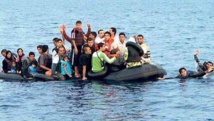 "In our view, it is an imperative of humanity that we do not re-discuss on a case-by-case basis which country is prepared to accept under what circumstances shipwrecked people," Secretary of State Stephan Mayer said at a meeting of EU interior ministers in Bucharest on Thursday.
Germany's wish is to take a "significant step forward in terms of creating a temporary ad-hoc distribution mechanism" for migrants rescued at sea, he said.
Mayer decried that fact that new negotiations had to be held again and again.
In recent months, Italy and Malta have repeatedly banned private rescue ships with migrants on board from docking in their ports. The most high-profile cases have involved a ship belonging to the German non-governmental organization Sea-Watch.
As a condition of allowing the ships to dock, the governments in Rome and Valletta made other EU states agree to take the migrants.
Most recently, 47 people had to wait almost two weeks aboard the Sea-Watch 3 vessel before they were allowed to land in Italy.
The prerequisite for this was that several EU countries - among them Germany - agreed at short notice to accept the migrants.