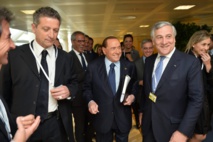 Monza, a lower-league club he bought two years ago, are starting the Serie B season this Friday with the ambition of getting promoted to the top flight for the first time in their 108-year-old history.
"We're not being arrogant when we say that our objective is Serie A: our players should be thinking about this everyday," team manager Filippo Antonelli told dpa.
Playing for Berlusconi "gives us enormous energy," he added, praising the club owner as "a positive and well-balanced" personality "who's already won everything with AC Milan."
Under Berlusconi ownership from 1986 to 2017, the Milanese devils bagged 29 trophies, including eight Italian league titles and five Champions Leagues.
Their winning streak dried after 2011, and when Berlusconi sold the club he explained he could no longer compete with top rivals bankrolled by Russian or Middle Eastern oil money.
With Monza, a town just 20 kilometres north-east of Milan, he found a chance to make a fresh start with a more reasonable budget and the help of an old friend: Adriano Galliani.
Galliani, 76, was AC Milan's chief executive during the Berlusconi years. He holds the same position at Monza, his hometown club of which he is a lifelong fan.
"It's Galliani who convinced Berlusconi" to invest in the club, Antonelli said, adding that the two men are constantly talking about football.
In a July interview with Corriere della Sera, Galliani described Monza as Berlusconi's "fifth success in life," after his previous dalliances with real estate, broadcasting, AC Milan and politics.
While day-to-day management is left in Galliani's hands, Berlusconi likes to leave his mark starting with mottoes inscribed in the players' dressing room.
The one for this season reads: "If you believe in it, you fight; if you believe in it, you can overcome all obstacles; if you believe in it, you win."
Berlusconi also tried to impose a dress code, expecting players to have tidy hair, no beard or earrings, and "absolutely no tattoos," as well as an all-Italian team.
Appearance has always been important for Berlusconi, as shown, among other things, by his extensive recourse to plastic surgery. But his Monza policy proved impossible to enforce.
Coach Cristian Brocchi, a former AC Milan midfielder and manager, is tattooed like several players. And this summer's star signings, Christian Gytkjaer and Mirko Maric, hail from Denmark and Croatia.
"Yes, now we have a few tattooed guys" but Monza still likes its footballers to have "clean-cut faces and behave properly on and off the pitch," team manager Antonelli said.
In June, Berlusconi told Monza newspaper Il Cittadino he was "totally" in love with the club, and was actively engaging with the coach and players, like "I always did with AC Milan."
"I listen to them, I give them advice, I compliment them on their behaviour on the pitch, I go as far as making some observations if there is something wrong in their behaviour," he said.
Players are regularly entertained by their boss: on these occasions, Berlusconi has been known to brag about his personal football skills or joke about his sex life.
According to Galliani, Netflix wanted to make a documentary about the Berlusconi-era Monza, but the project had to be dropped due to the novel coronavirus pandemic.
It would have probably made good TV.
But Berlusconi's histrionics aside, Daniele Barone, a Sky Sport Italy journalist who follows Serie B, is convinced that Monza has what it takes to succeed.
"On paper, they have all they need for a great season," Barone told dpa, warning, however, that the second tier is notoriously unpredictable and teams that look strong at the start of the season can disappoint.
He said the Berlusconi-Galliani duo want to turn Monza into a team capable of holding "a stable position" in the top half of the Serie A table "within the next five years."
"Their model is clearly Atalanta," he added in reference to the Bergamo side that came third in the Serie A last season and reached the Champions League quarter-finals.
There is still some way to go, however, as shown by a September 5 friendly in which the past and present in Berlusconi's football life squared off.
The result was: AC Milan 4, Monza 1.