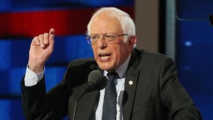 Bernie Sanders
"But more important than even these terrible policies is that we have a president of the United States who is a pathological liar and is doing something that no president in my lifetime has ever done," Sanders said to cheers.
"Instead of bringing the American people together, he is trying to divide us up based on the colour of our skin, based on where we come from, based on our religion, based on our gender, based on our sexual identity," Sanders said.
"Our job is to tell this president that we will not tolerate policies that are racist and sexist and homophobic."