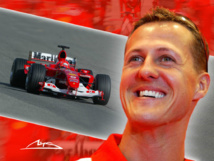 Mercedes, where Schumacher raced between 2010 and 2012, and Ferrari, the team with which he won five of his seven titles, were among those in Formula One with birthday greeting for the German, who suffered serious head injuries in a skiing accident five years ago.
"For his 50th birthday, the entire Mercedes F1 team tips their hat to Michael Schumacher and wishes him all the very best!" Mercedes said in a statement.
On its website, Ferrari posted, "Our champ turns 50 today. We're all with you Michael #KeepFighting."
Mercedes said that with 91 race wins and seven Formula One drivers' titles, Schumacher "is an absolute icon of the sport who has dominated the series like no one else."
Wolff said Schumacher "has had a tremendous impact on Formula One" and "shaped and changed the sport forever."
He added: "As a driver, Michael took Formula One to a whole new level with his attention to detail and his technical knowledge."
Schumacher is continuing his rehabilitation at his home in Gland, Switzerland, but there has been little information on the state of his health.
His family in a message on Wednesday said: "Please understand if we are following Michael's wishes and keeping such a sensitive subject as health, as it has always been, in privacy."