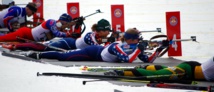 Russia's Ekaterina Glazyrina was suspended on suspicion of doping before taking part at the doping-troubled biathlon world championships, the sport's ruling body announced on Friday. The ban comes as black clouds hover above the championships with accusations of doping and police raids on team hotels, while rifts within competitors have boiled over into public spats.
The double European relay gold medallist, who was due to line up in Friday's women's sprint, was banned in connection to December's damning McLaren report into 'state-sponsored' doping in Russia.
"The IBU provisionally suspends Ekaterina Glazyrina as of immediately based on McLaren Report," the International Biathlon Union (IBU) revealed.
"After having collected additional information and documentation, the working group came to the conclusion that an optional provisional suspension," the IBU explained.
The World Anti-Doping backed investigation targeted more than 30 Russian biathletes.
On Wednesday the IBU stripped Russia of the 2021 Biathlon World Championships but charges against 22 of an original 31 athletes were dropped.
Then on Thursday Austrian police raided the Kazakh world championship's team hotel in Hochfilzen and seized doping-related materials, investigators said.
To worsen the atmosphere at the Austrian ski resort outspoken French biathlon star Martin Fourcade ramped up the tension over allegations of Moscow state-sponsored doping Thursday when he walked off a world championship podium.
Fourcade, a 10-time world champion, overall World Cup holder since 2011 and a double Olympic gold medallist, stepped away from the ceremony as the Russian team were getting bronze for finishing third in the mixed relay event.