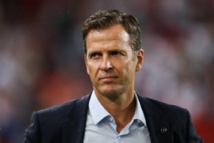 Bierhoff
"England is too far ahead at the moment but the Bundesliga can position itself is the clear number two. Maybe the best players won't come but instead the best talents," Bierhoff told the Bild am Sonntag Sunday paper.
Young players like England's Jadon Sancho at Borussia Dortmund have made their way into the German elite league lately.
Bierhoff said the trend could gain momentum if Germany further catches up and makes the most of its modern and "fantastic" football infrastructure.
The former Germany striker also admitted that the German national team's attempted return to the top was "a major effort" and that players and coaches were not given enough freedom in the past.
Bierhoff said that "more individualisation, more freedom, and more creativity" were needed in the future.