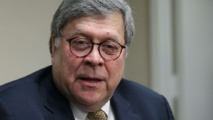 William Barr
As a result, when the 400-page report is released on Thursday, it will be full of blackened lines of text.
Despite attempts by Democrats in Congress to force Barr to release the report unredacted, he said last week he has no choice under the law but to ensure certain information is not made public.
Barr, who is the top US law enforcement official, told members of a congressional committee that he is "relying on my own discretion to make as much public as I can."
He told the committee that there are four criteria for redactions:
- Grand jury information, which is subject to secrecy rules
- Information that the intelligence community believes would reveal sources and methods
- Information that could interfere with ongoing prosecutions, including cases spun from the Mueller investigation in different juridisctions
- Information that implicates the privacy or reputation of "peripheral players" who haven't been charged
Barr also said the redactions would be colour-coded and each would include an explanation describing the basis for the redaction.
"The situation here requires me to exercise my discretion to get as much information out as I can," Barr told the committee. "These categories, I think, most fair-minded people would agree are things that have to be redacted."
Notepad