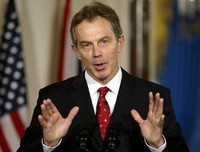 Blair, who converted to Catholicism after leaving office in 2007 and talked increasingly openly of his Christian faith while prime minister, on Friday delivered his inaugural lecture at the prestigious college in the state of Connecticut.

An enthusiastic audience of more than 2,000 students later thronged ornate Woolsey Hall to hear a talk by Blair, who stepped down after a decade in power, under fire for his support for the US-led war in Iraq.

The part-time job -- he will deliver five lectures a year for three years to 25 students -- comes on top of work as a Middle East peace envoy and lucrative business consultancies.

But the focus on faith and globalisation as Yale's Howland Distinguished Fellow dovetails with the former Labour Party leader's long interest in religion and the work of his Tony Blair Faith Foundation.

Blair, who wore a blue suit and came with a Scotland Yard security detail, is already familiar with Yale's picturesque campus in the quiet town of New Haven -- his elder son Euan graduated from there this year.

He described his students at their first lecture as "really clever".

The ex-premier, who jokingly recalled his own teachers thinking of him as "a complete pain the backside" and a being habitual absentee at lectures, is unlikely to join in the carousing for which US college life is famous.

Blair will deliver two-hour lectures but will not conduct seminars, meaning he will spend only brief spells on campus, Yale spokeswoman Helaine Klasky said.

However, he will spend a few nights at the university where his former close ally US President George W. Bush, once studied.

"He slept here last night, but he is leaving later this evening," Klasky said.

Yale is donating 200,000 dollars (109,000 pounds) to his foundation, in addition to paying a "nominal fee," Klasky said.

Unlike Americans, Britons discourage public displays of faith by politicians.

Blair once admitted to the BBC that he toned down religious talk for fear of being considered a "nutter".
Or as his famously pugnacious spokesman Alastair Campbell once stated: "We don't do God."

Yet Blair openly flirted with Catholicism while in office and converted soon after, a break with tradition in a nation where the monarch heads the Anglican Church of England.

By chance, students waiting for Blair to arrive at Woolsey Hall were treated to a church-like recital on the hall's magnificent organ.

However, Blair was in no mood to repent for his most controversial act: supporting Bush's invasion of Iraq based on what has since proven to be a false premise -- that Saddam Hussein harboured weapons of mass destruction.

He described the Iraq conflict, deeply unpopular in Britain, as part of a broader struggle against extreme Islam and enemies of Muslims "trying to be part of the modern world".

"They are the same forces we are fighting everywhere," Blair said.

Referring to the guerrilla wars bogging down Western armies both in Iraq and Afghanistan, Blair said there was "a deeper and more fundamental struggle than we anticipated".

There is "no alternative but to follow it through."

Other than his Mideast envoy duties and now teaching, Blair has a range of lucrative part-time work, including consultancies for investment bank JPMorgan and Swiss insurer Zurich.
He is reported to earn hundreds of thousands of pounds for speaking appearances.

Amila Golic, an English literature student who attended the talk, found Yale's newest lecturer "charming but not convincing".

"A lot of it was wishy washy. The questions about Iraq and so on should have been extended. I think that's more relevant to us," said Golic, 20.

Certainly the once-invincible master of 10 Downing Street still has charm.

He drew laughs recalling the double-speak among senior advisors. "When they thought you were doing something really, really stupid, they'd say: 'That's a very courageous thought, prime minister'."

But the loudest cheer came when he was quizzed about how as a student he'd sided in the great debate over who was best: the Beatles or the Rolling Stones.

Blair looked flummoxed. "I always used to say the Rolling Stones," he answered finally, "because if you didn't say the Stones, the girlfriends just..." -- and Blair waved his hands to indicate them disappearing.

"The truth is," he continued to a roar of approval, "that it really is the Beatles."