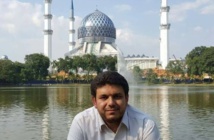 University lecturer Fadi al-Batsh was shot 14 times on Saturday by two assailants riding a motorbike as he made his way from his home to a nearby mosque in Kuala Lumpur.
The incident has provoked widespread outcry among Palestinian factions, which have accused Israel's secretive Mossad agency of a planned assassination.
"You came back Fadi with your body and soul to embrace the land of Palestine, congratulations to you and your family and Palestine for your Martyrdom," Hamas official Khalil al-Hayyah said on Thursday.
Al-Hayyah welcomed al-Batsh's body at the Rafah crossing with Egypt, saying Hamas holds Israel responsible for the killing. His funeral will be held on Friday.
On Monday Malaysian police released sketches of two attackers suspected of gunning down a Palestinian Hamas member in the Malaysian capital.
Police chief Mohamad Fuzi Harun said that the sketched images showed two bearded assailants in black jackets, adding that they appeared to be of either European or Middle Eastern origin.
Based on CCTV footage, the assailants waited for al-Batsh for 20 minutes before gunning him down.
Malaysian Deputy Prime Minister Ahmad Zahid Hamidi on Saturday said the victim had planned to leave the country for a conference in Turkey that afternoon.