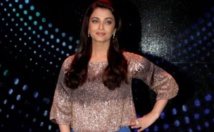 The Bachchan family are the most high profile personalities to be suffering from the pandemic in India, which on Friday recorded a total of 1 million cases.
Aishwarya Bachchan, 46, a former Miss World, and her daughter Aaradhya had been staying in isolation in their Mumbai home after testing positive nearly a week ago.
The two were moved to Nanavati Hospital on Friday night after they complained of breathlessness, the Hindustan Times daily reported.
Both mother and daughter were "fine," the PTI news agency reported quoting hospital sources.
Aishwarya, among the top stars in Indian cinema, has appeared in Hollywood films as well and drawn international attention. She has also been the face of many top cosmetic and luxury brands.
Both Amitabh and Abhishek were reported to be stable with mild symptoms of the novel coronavirus when they were admitted to hospital's isolation ward.
Amitabh has been regularly sending Twitter messages. "In happy times, in times of illness, you our near and dear, our well wishers, our fans have ever given us unstinting love, affection, care and prayer," he had said on Friday.
Mumbai, India's financial hub and home to the Bollywood film industry, has emerged as the epicentre the country's outbreak, reporting almost 100,000 infections and more than 5,500 deaths so far.