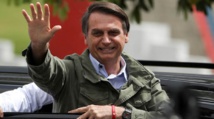 Once Bolsonaro has recovered from the injuries he suffered in a September 6 knife attack, he will first visit Chile and then the US, said Onyx Lorenzoni, whom Bolsonaro is expected to appoint as his chief of staff.
"Our relations will be with countries which can be good brothers in the fight to create employment, development, social peace in Brazil," Lorenzoni told the Chilean television channel 24 Horas.
Chile's conservative president, Sebastian Pinera, said he had spoken to the far-right president-elect on the phone and that Bolsonaro was planning to visit Chile. "We had an extensive, frank and very useful conversation," Pinera said at the presidential palace.
Bolsonaro also spoke to US President Donald Trump, who said the two countries would "work closely together on trade, military and everything else."
Bolsonaro has endorsed a string of foreign policy positions similar to those of Trump, including criticizing Venezuela and its leftist regime. On the campaign trail, Bolsonaro attempted to discredit his leftist challenger by saying that Brazil would become the next Venezuela under his rule.