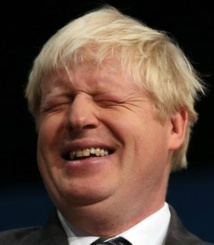 His nearest rival, Foreign Secretary Jeremy Hunt, received just 46 votes. Hunt progresses to the next round of voting along with Environment Secretary Michael Gove, Interior Minister Sajid Javid and wild card Rory Stewart, a rising centre-ground candidate.
Former Brexit minister Dominic Raab was eliminated from the race.
Pro-Brexit Johnson, who has a reputation for being gaffe-prone, took part in his first television debate with the other four remaining contenders on Tuesday evening.
According to British media there was no clear winner after the debate, which centred on Brexit, Islamophobia and climate change.
Johnson, a prominent face of the Brexit campaign before the 2016 referendum, reiterated his promise of a tougher line in negotiations with Brussels and insisted that the possibility of Britain leaving the EU without a deal must remain open.
He said Britain faced "a catastrophic loss of confidence in politics" if the new October 31 deadline for leaving hte EU wasn't met.
In the first round of voting on Thursday, Johnson won the support of 114 of the 313 Conservative lawmakers.
Three candidates were eliminated in the first vote, and one later withdrew.
The candidates had to secure the backing of at least 33 lawmakers in Tuesday's second vote.
More votes will follow this week until just two candidates remain. The party's 160,000 members will then vote by post to decide the winner, with the result expected in the week beginning July 22.
May officially stepped down on June 7 after failing to win parliamentary approval for the deal she negotiated for Britain to leave the European Union.