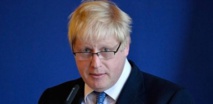 Johnson said he resigned because he could not accept her new plan and feared the Brexit "dream is dying."
Johnson tweeted that he was "proud to have served as foreign secretary" and was stepping down "with sadness," posting a copy of his resignation letter.
"Brexit should be about opportunity and hope," Johnson wrote in the letter.
"It should be a chance to do things differently, to be more nimble and dynamic, and to maximize the particular advantages of the UK in an open, outward-looking global economy," he said. "That [Brexit] dream is dying, suffocated by needless self doubt."
He said crucial decisions such as preparations for a no-deal had been postponed, "with the result that we appear to be heading for a semi-Brexit, with large parts of the economy still locked in the EU system, but with no UK control over that system."
Johnson said under May's plan, Britain was "headed for the status of a colony."
Speaking in parliament, May thanked Johnson and Davis for their work, confirming that she disagreed with them on Brexit policy.
May defended her proposals, ironed out with cabinet members in a marathon meeting on Friday at Chequers, the prime minister's residence outside London.
The proposals were "credible and responsible" and reflected a "comprehensive and ambitious" plan, she said.
May attended a meeting of her party's influential 1922 Committee, which must call an election if at least 48 of the 316 Conservative lawmakers request one, on Friday evening.
Influential right-winger Jacob Rees-Mogg, who leads some 60 lawmakers in the Conservative pro-Brexit European Research Group, told the BBC after the meeting that he did not expect May to face a confidence vote, adding that he wanted to persuade her to change her Brexit proposals.
Rees-Mogg was among many Conservative "Brexiteers" who supported Monday's resignations.
Davis said earlier Monday that he had resigned because he felt May was "giving too much away, too easily" in her latest proposals, though he backed her to continue as prime minister.
British media said the resignations of Johnson, Davis and Steve Baker, a junior minister and prominent Brexit advocate, had plunged her government into a new crisis, one year after many analysts wrote off her long-term political leadership prospects.
May moved swiftly to appoint pro-Leave Conservative lawmaker Dominic Raab as Davis' successor.
Former lawyer Raab, 44, had been a junior housing minister since January and previously served in the Justice Ministry.
Davis told the BBC that he felt unable to promote a policy that he no longer believed in.
"It seems to me we are giving too much away, too easily, and that's a dangerous strategy at this time," he told the broadcaster.
Asked in the BBC interview about a potential challenge to May's leadership of the party, Davis said it would be "the wrong thing to do," claiming that his resignation could even strengthen her position.
Davis and Johnson are the sixth and seventh cabinet secretaries to leave the government since an ill-fated snap election May called in June last year which left the Conservatives short of a majority and dependent on support from Northern Ireland's Democratic Unionist Party (DUP) for key votes in parliament.