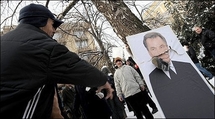 In their Facebook event page, the organisers urged "citizens to wish a happy New Year to our government leaders by throwing shoes of warning at them."
Iraqi journalist Muntazer al-Zaidi threw both his shoes at Bush during a Baghdad press conference in mid-December in protest at the outgoing US leader's Iraq policy.
The incident already inspired a Bosnian website to create an online game inviting surfers to fling virtual shoes at the country's top Serb leader, Milorad Dodik.
Bosnian Serb Prime Minister Dodik enjoys huge support among Serbs, but is resented by most Bosnian Croats and Muslims due to his nationalist rhetoric and strong opposition to strengthening the country's central institutions.
Since its 1992-1995 war, Bosnia has been split into two autonomous entities -- the Serbs' Republika Srpska and the Muslim-Croat Federation -- each with its own government, police and judiciary.
-------------------------
Image of a Bosnian throws a shoe at a photo of Bosnian politician Haris Silajdzic during a protest in Sarajevo, by Elvis Barukcic.