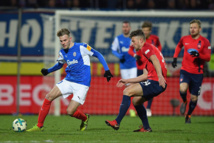 Holstein Kiel
Hamburg - Greuther Fuerth, VfB Stuttgart, Holstein Kiel and Heidenheim all struck in injury time against SV Hamburg since the German second division returned from its coronavirus suspension.
In a combined time of about four minutes, six points were dropped and a 34-game season was
defined. Rather than the succesful promotion which look certain, it would be dismal failure.
Even then, Hamburg still had a chance going into Sunday's last day. Champions Arminia Bielefeld helped out by thrashing third-placed Heidenheim 3-0 but Hamburg could not get the point they needed against midtable Sandhausen to sneak the play-off place - instead they crashed 5-1 at home.
"A new low in its 133-history," was how the Bild national paper described Sunday's latest debacle for the six-time national champions 1983 European Cup winners they called the "most embarrassing HSV of all-time."
Known as the Bundesliga Dino as the last original member of the league to be relegated in 2018, a new and unpleasant era is now taking hold with a third second-tier campaign ahead.
The local Hamburger Morgenpost daily said "only dumb that the HSV at least officially does not tour the country as a comedy show," and pointed out that missing the play-off - against arch northern rivals Werder Bremen - would at least prevent more suffering.
In debt to the tune of several million euros, the Hamburg Abendblatt paper feared major backers could desert the sinking ship.
A debate over the future of coach Dieter Hecking is inevitable but some would say pointless. Hamburg's decline from European force and even domestic Champions League contenders just over a decade ago is down to much more than any one man who picks the team.
After all, there have been enough of them. While minnows Heidenheim have been led by Frank Schmidt since 2007, Hamburg have had - including interim solutions and returning bosses - 20 people at the helm in the period.
"That is a very big disappointment," said Hecking. "But we didn't blow promotion just today rather than overall since the restart.
"We have made too many simple mistakes, conceded too many goals, especially late goals. That can happen once but not so often.
"It's not an excuse. We threw it away ourselves."
The experienced Hecking was considered a coup when secured last season. His contract would have renewed with promotion but is now in doubt, though he has indicated he wants to stay.
"We will go into the analysis in the coming days," promised club president and former player Marcell Jansen.
Hamburg still believe themselves to be a big club. They have received huge backing from investor Klaus-Michael Kuehne and retain A-list sponsors in the form of Adidias and the Emirates Airline.
But smaller sides like Augsburg, Mainz and now Union Berlin have shown that is possible to survive and even thrive in the Bundesliga with less money - if you spend it well.
Hamburg will now enter their latest rebuilding project and with the second division not due to resume until mid-September, they have plenty time to figure out what went wrong. And how they can - finally - put it right.