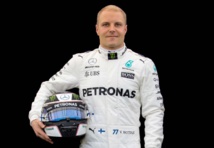 .Bottas
The 28-year-old Finn Bottas has been with Mercedes since 2017 when he joined as a short-notice replacement for Nico Rosberg, who suddenly retired after winning the 2016 championship.
Bottas, previously of Williams, impressed with three season victories in his first campaign and has been retained despite failing to win this term. He is currently fifth in the drivers' standings, 67 points behind leader Sebastian Vettel of Ferrari.
"It is great news that I will be racing for Mercedes in 2019 and it is nice to announce it here in Hockenheim - not just the home race for Mercedes but also the circuit where I took my first ever single-seater wins back in 2007," Bottas said on the team homepage.
"This year, with a full winter of preparation, I have been able to make a good step forward - and I believe that there is still more to come.
"We have not been so lucky in the races this year but the team knows how I am performing, and this is a great sign of confidence in me and my driving."
When Bottas first signed for Mercedes, there were few options for the team who needed an urgent replacement for Rosberg following his shock departure.
Rosberg retiring so late in the year meant other established drivers were under contract and Bottas was one of those who could be released from Williams - who take Mercedes engines.
But despite having little time to prepare, Bottas quickly settled into life at the dominant team in F1 to deliver five pole positions in addition to his race wins and, crucially, provide a solid partner for Hamilton after the rocky years battling Rosberg.
Throughout 2017 there remained a question of whether Mercedes would make a big move in the driver market for this year with Bottas only having an option for the current season.
And a similar deal this time around does leave the team with some choice.
"Obviously, my goal is to keep performing at a high level - and to make it a no-brainer for the team when it comes to deciding their plans for 2020 as well," Bottas admitted.
However, while Mercedes do not operate with an official number one driver, keeping Hamilton - one of the best ever to have raced in the sport - happy is almost as important a consideration as performance.
So if Bottas continues in current form, there is little reason to see the team choosing to rock the boat without good reason.
"We are very pleased to extend Valtteri's contract with Mercedes for another season at least - and to be able to confirm an unchanged driver line-up for 2019, ahead of our home race in Hockenheim," Merecedes motorsport chief Toto Wolff said.
"When we took the decision in favour of Valtteri for 2019, it wasn't just about his undoubted speed and work ethic, but also a question of character. His relationship with the team, including Lewis, is open and trusting, without any politics at all."