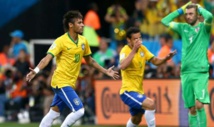 Croatia dominated the first half on a sunny afternoon at Liverpool's Anfield Road but Brazil raised their game as Neymar came on for the second half.
The 26-year-old then ran past defenders in the 69th and blasted the ball high into the net from short range in off the crossbar for the lone goal. Roberto Firmino wrapped up matters in his Liverpool home stadium in stoppage time.
Neymar fractured his foot in late February while playing for Paris Saint-Germain and required surgery but seems to be fit again just in time for the record five-time world champions.
Both sides experimented in their penultimate tune-up game ahead of the June 14-July 15 tournament in Russia, with Croatia wrapping up preparations on June 8 against Senegal and Brail two days later against Austria.