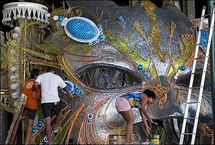 The sheaths are to be handed out during the extravagant parades featuring bare-breasted models and stirring drums, and in the innumerable street parties that will take place across the country between February 19 and 25.
Brazil is the biggest state buyer of condoms in the world. Temporao said his government was buying "1.2 billion condoms on the international market."
In a dig at churches, including the Catholic Church which preaches sexual abstinence over condom use, Temporao said: "The churches pray. And we are working to reduce the number of cases of illness."
He said the number of HIV/AIDS cases in Brazil has stayed stable over the past eight years, and the survival rate of HIV-positive patients had doubled over the past 12 years.
The country provides prevention campaigns and free retroviral treatment to the 630,000 people infected with the virus.
------------------------------------------------------
Image of members of Vila Isabel samba school putting the final touches in a huge mask, on February 12, 2009, at the Samba City in Rio de Janeiro, Brazil; by Antonio Scorza.