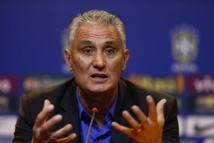 A poll by the company Ibope, published at the same time, gave Bolsonaro 54 per cent and Haddad 46 per cent.
Bolsonaro's lead has grown narrower than in previous polls, raising the possibility that Haddad, 55, could take a surprise victory.
"Democracy in Brazil it at stake today," Haddad told journalists before voting in Sao Paulo.
"I'm very hopeful that we'll have a great result tonight," he added.
Bolsonaro was also seen voting in Rio de Janeiro. The candidate, who was stabbed at an election rally on September 6, was wearing a bulletproof vest, local media reported.
The election was proceeding "normally" and without violence, said Laura Chinchilla, head of a mission of election observers from the Organization of American States.
Minor incidents such as some voters being harassed by supporters of the opposite camp were reported.
The Workers' Party (PT) chose former Sao Paulo mayor Haddad in September to replace ex-president Luiz Inacio Lula da Silva, who had appeared practically certain to win the election until he was jailed on corruption charges and excluded from the race.
The less charismatic Haddad has tried to capitalize on the achievements of Lula, who is credited with lifting millions of people out of poverty during his 2003-10 presidency, while trying to distance himself from the corruption that tarnished Lula's party.
A massive graft scandal involving the oil giant Petrobras, soaring crime and the 2015-16 recession have favoured the rise of Bolsonaro, dubbed "Brazil's Donald Trump."
The country has not previously seen a powerful right-wing movement since the end of military rule in 1985.
Bolsonaro has been a congressman since 1991, but he presents himself as a political outsider and has pledged to carry out "a clean-up never before seen in the history [of Brazil]."
He has praised the 1964-85 military dictatorship and pledged to place generals in ministries and to arm the population to fight crime. He has also adopted an ultra-liberal economic agenda and spoken out against abortion.
The candidate sparked widespread outrage with statements seen as sexist, racist and homophobic.
"I voted for Haddad, because I'm a woman and because of his proposals," a voter who identified herself as Estela said at a polling station in Niteroi in Rio de Janeiro metropolitan area. "The other candidate scares me ... very bad things could happen to minorities," she added.
"I voted for Haddad because Bolsonaro frightens me with his fascism," said another voter, who gave her name as Marisa.
Ricardo Soares, 55, voted for Bolsonaro. "The vote was an option we had to oust the PT from power, that corrupt government which used so much public money for its own purposes," he said outside the candidate's house in Rio de Janeiro, where hundreds of supporters had gathered to celebrate his expected victory.
"[Bolsonaro] is the only candidate who is prepared to change the country, he is not corrupt, he did not receive bribes," said Kelly Barreto, 33.
"The media invented that he is homophobic, racist, but it was a lie," she added outside Bolsonaro's house.
Even women, black and indigenous people voted for Bolsonaro in the first election round on October 7, when he took 46 per cent of the vote against 29 per cent for Haddad.
"Voters gave a very clear message that they want change," said political scientist Mauricio Santoro from Rio de Janeiro State University.
More than 147 million people are eligible to vote in the election, the results of which were expected late Sunday.
Notepad