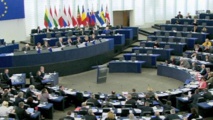 Britain's exit from the European Union, set for March 29, could only be delayed to the beginning of July, Tajani told newspapers from Germany's Funke Media Group in comments to be published on Saturday.
But a delay would have to be justified, for example because of elections or for another referendum, he said.
British parliamentarians are due to vote again on Prime Minister Theresa May's Brexit deal on Tuesday, after overwhelmingly rejecting it in January.
If the agreement is again rejected, May will allow a vote on Wednesday on whether the country should leave the bloc at the end of March without a deal. Should that also be rejected, lawmakers will on Thursday vote on whether Brexit should be postponed.
Tajani said a chaotic exit would be a disaster for the British economy as well as being harmful to the EU.
But he also warned that the EU was not prepared to change the content of Britain's divorce deal, and especially not the agreement on the Irish border, which remains a key sticking point in negotiations.
The so-called "backstop" agreement is meant to avoid a hard border between Northern Ireland and the Republic of Ireland.
But critics of the agreement, which would see Britain remain in the EU's customs union until a future relationship has been worked out, fear it could lock Britain into a close relationship with the EU that it cannot unilaterally end.