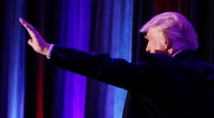 "The US is one of our oldest and most valued allies and our strong and deep partnership will endure," the spokesman said.
Trump said he had cancelled next month's visit, which had been set to include the opening of the new US embassy in London, because he did not like the building and thought it was a "bad deal" financially.
But many observers suggested that popular opposition to Trump was the real reason behind the cancellation.
Large protests had been planned during his visit, supported by many opposition politicians.
Foreign Secretary Boris Johnson blamed London mayor Sadiq Khan and Labour leader Jeremy Corbyn for the cancellation.
"The US is the biggest single investor in the UK, yet Khan and Corbyn seem determined to put this crucial relationship at risk," Johnson wrote on Twitter.
"We will not allow US-UK relations to be endangered by some puffed up, pompous popinjay in City Hall," Johnson said, aiming his insult at Khan.
Khan said Trump had "got the message" on the strength of opposition to his planned visit to Britain.
"Many Londoners have made it clear that Donald Trump is not welcome here while he is pursuing such a divisive agenda," Khan said. "It seems he's finally got that message."
Trunp accused the Obama administration of "having sold perhaps the best located and finest embassy in London for 'peanuts,' only to build a new one in an off location for 1.2 billion dollars."
"Bad deal. Wanted me to cut ribbon-NO!" the US president wrote on Twitter.
"That is totally plausible Donald... Nothing to do with what would have been the biggest protests since the Iraq War," anti-hate activist Brendan Cox said in reply to Trump's tweet.
The decision to move the embassy to its new site in south-western London was actually taken in 2008 by the administration of Obama's predecessor, George W Bush, to provide "a modern, open and secure American diplomatic facility in London."
Labour lawmaker David Lammy, who had vowed to lead a protest against Trump if he visited, said the US president was "too scared of us Londoners, who don't want him darkening our door."
The cancellation of the visit was "excellent news," said Lindsey German, organizer of the Stop the War Coalition, which had planned a large protest against Trump.
But former UK Independence Party leader Nigel Farage, who has been mainly supportive of Trump's presidency, said he was disappointed by the cancellation.
"He's been to countries all over the world and yet he's not been to the one with whom he's closest," Farage told BBC Radio 4's Today programme. "I think it's disappointing."
May invited Trump for a state visit when she met with him at the White House soon after he took office last year.