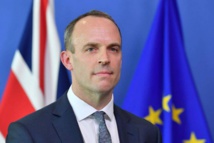 Britain's chief Brexit envoy
Prime Minister Theresa May had been "constructive and respectful" in promoting her recent "Chequers" proposals, Brexit Secretary Dominic Raab said in a speech.
"In return, we heard jibes from [EU] senior leaders," Raab told leading members of May's Conservatives at an annual conference in the central English city of Birmingham.
"And we saw a starkly one-sided approach to negotiation, where the EU's theological approach allows no room for serious compromise," he said.
Raab said EU officials urgently "need to get serious" if they want to reach a deal, adding that it was not "unthinkable" that Britain could withdraw from the European Union without an agreement.
Foreign Secretary Jeremy Hunt had already inflamed tension with the EU by comparing the bloc to the Soviet Union on Sunday.
Hunt also urged EU officials to soften their approach to the Brexit negotiations or risk turning the EU into a "prison" for its member states.
"I would say respectfully that we would all benefit, and in particular foreign affairs ministers, from opening a history book from time to time," European Commission spokesman Margaritis Schinas said on Monday when asked about Hunt's comments.
In a speech later Monday, Chancellor of the Exchequer Philip Hammond urged members of the divided Conservative party to "stand together" as May tries to "get the best possible outcome for Britain while at the same time taking the precaution of preparing for the possibility of 'no deal'."
"We all have views about how to deliver Brexit that are sincerely held and not - if we're totally honest - 100 per cent aligned," Hammond said.
"But when the Brexit debate is over - and difficult as it is to imagine today, I promise you that one day it will be - our work, as Conservatives, will not be.
"Because more than ever Britain will need strong leadership... that only a united Conservative party can provide."
The four-day conference opened on Sunday amid intense debate over May's strategy, which proposes a common rulebook with the EU on the trade of goods. Meanwhile, hardline eurosceptics are calling for a looser, Canada-style free-trade deal after Brexit.
May is scheduled to promote her Chequers proposals in a speech at the close of the conference on Wednesday, when she is also expected to focus on immigration.
Pro-Brexit former foreign secretary Boris Johnson, an increasingly outspoken critic of May's strategy, is scheduled to speak at a conference fringe event on Tuesday.
In an interview published in the Sunday Times ahead of the conference, Johnson, seen as a potential leadership challenger to May, called her plans "deranged" and "preposterous."
Johnson also suggested building a bridge from Britain to Northern Ireland, earning ridicule from critics inside and outside the Conservatives.
"Flight from Birmingham to Belfast delayed. Wish there were a bridge. Wait..." Home Secretary Sajid Javid, another potential candidate in any leadership contest, joked on Twitter.