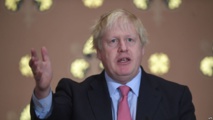 Johnson, 54, told parliament's main elected house, the Commons, that a standards committee had "published a report on nine payments, mainly unexpected foreign royalties, which I am very sorry to say were recorded late on the register of members' interests."
"I fully accept that the delay was a breach of the house's rules and ... I therefore offer the house a full and unreserved apology," said the pro-Brexit Conservative lawmaker.
Johnson added that he was "grateful to the committee for recognizing that there was no intention to mislead the house and that I had been completely transparent."
Kathryn Stone, the parliamentary commissioner for standards, said the late registrations were mostly "royalties or [payments] for the sale of rights on books already written."
Stone said the largest single amount was the first payment under a monthly contract that Johnson signed after leaving Prime Minister Theresa May's Conservative government in July, when he resigned to oppose May's Brexit deal.
Notepad