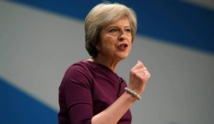 "Hopefully what will happen is she will stand down as Tory leader I think on or before June 10, and she will hopefully remain as caretaker prime minister until such time as a new Tory leader is elected," a committee source was quoted as saying.
May had previously promised to set a timetable for her resignation after the Brexit deal that she reached with the EU - which has already been overwhelmingly rejected by Britain's parliament three times - had been voted on once more.
But she has been under fierce pressure to step down all week after Conservatives and opposition Labour lawmakers alike said they would not support its latest reincarnation.
The government had been expected to publish her Withdrawal Agreement Bill on Friday ahead of a parliamentary vote in early June, but on Thursday said publication would be delayed until after June 3.
Foreign Secretary Jeremy Hunt has reportedly told May she should scrap the bill completely while Home Secretary Sajid Javid objected strongly to her plan to offer a second referendum on Brexit.
"The Prime Minister is listening to her colleagues about the Bill and will be having further discussions," the prime minister's spokesman said.
May is expected to stay on during a state visit to Britain by US President Donald Trump in June, PA reported.
In response to a question following a speech at the National Cyber Security Centre, Foreign Secretary Jeremy Hunt said: "Theresa May will be Prime Minister to welcome him and rightly so."
Andrea Leadsom, May's leader in the Commons, the lower house of parliament, resigned on Wednesday, saying she could no longer support the prime minister's approach.
British media and analysts interpreted Leadsom's departure as one of the clearest indications that May's days in office are numbered.
Former foreign secretary Boris Johnson is considered the candidate to succeed May and one of several Tory party leaders poised for a leadership bid.
A public opinion poll suggests that Johnson, the pro-Brexit Telegraph columnist and former mayor of London, has the best shot at taking over from May as prime minister.
Johnson has the backing of 39 per cent of Conservative party members questioned by YouGov in a poll conducted this week for The Times newspaper.
The poll showed Johnson with a huge lead over his closest rival for the post, former Brexit secretary Dominic Raab, who received only 13 per cent.
May will likely come under additional pressure once the results of the EU elections are revealed on Sunday.
The Brexit Party of eurosceptic Nigel Farage is expected to win those elections, with Brexit champions and former UKIP voters using the vote to underscore their disappointment that Britain has not yet left the EU.
Opinion polls from before this week's EU election suggest the Brexit Party will win 30-40 per cent of votes in Britain and eclipse the combined vote share of the country's two main political parties, the Conservatives and Labour.
Farage has urged voters to help him "change politics for good" and join a "fight for democracy" to ensure that the government acts on the result of the Brexit referendum in 2016, when 52 per cent voted to leave the EU.