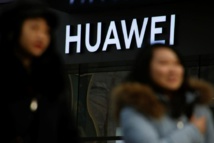 "The prime minister has this evening asked Gavin Williamson to leave the government, having lost confidence in his ability to serve in the role of defence secretary and as a member of her cabinet," a government spokesperson said.
May's decision was "informed by his conduct surrounding an investigation into the circumstances of the unauthorized disclosure of information from a meeting of the National Security Council," the spokesperson said.
Downing Street published a letter from May to Williamson telling him that "no other credible version of events to explain this leak has been identified."
"This is an extremely serious matter, and a deeply disappointing one," May wrote.
International Development Secretary Penny Mordaunt will replace Williamson as defence chief, the government said.
The Daily Telegraph reported last week that Britain's National Security Council, chaired by May, had agreed to allow Huawei help build "non-core" infrastructure - antennas, for example - for Britain's new 5G network.
The newspaper said Williamson and four other senior cabinet members had raised concerns at the meeting over Huawei's possible involvement.
Williamson denied the allegations and said he told May in a meeting late Wednesday that he was not the source of the leak. In an open letter to the prime minister, Williamson said he refused to resign because he had not leaked any information.
"I strenuously deny that I was in any involved in this leak and I am confident that a formal and thorough investigation would have vindicated my position," Williamson wrote.
Williamson told Sky News he believed the action against him stemmed from the settling of a "vendetta" between him and May's National Security Adviser Mark Sedwill.
Britain and other nations are mulling whether to exclude Huawei from the expansion of their 5G networks amid suspicions that the company cooperates too closely with China's ruling Communist Party. Huawei has rejected the allegations.
The United States has banned government agencies from contracting with Huawei or other companies that use its equipment and is encouraging allies to sever ties with the company.