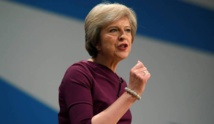 May will meet Chancellor Angela Merkel in Berlin and President Emmanuel Macron in Paris to discuss the Brexit process, government officials in Germany and France said.
The last-minute diplomacy comes a day before a crucial EU summit which will decide on May's request to postpone Britain's exit - currently scheduled to take place on Friday.
May is to ask for an extension until June 30 at the Wednesday summit. The EU has already indicated it expects her to have a concrete plan in place if more time is to be granted.
Merkel is keen to avoid a no-deal Brexit, whereby Britain leaves without rules governing its future relationship with the bloc in place.
But Macron has been taking a tougher line, with the Elysee saying that May's request did not meet the conditions set out by European leaders of proposing a credible alternative plan.
Macron has said that a further extension of the Brexit date would require a definite plan such as the holding of new British elections, a second referendum on Brexit, or actually offering a new proposal for the future relationship.
German government spokesman Steffen Seibert said Monday it was crucial to protect the unity of the remaining 27 member states, particularly with regard to a decision on an extension.