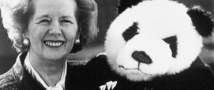 Practised by China for centuries, so-called panda diplomacy involves loaning the fuzzy black-and-white bears as gifts to foreign powers in order to bolster relations.
But the animals could not win over Thatcher, who refused a request by London Zoo to take a male panda with her on a visit to the United States in 1981, documents released by the National Archive show.
"I am not taking a panda with me. Pandas and politicians are not happy omens!" she wrote in reponse to the zoo's request.
The zoo was struggling financially at the time and had hoped that the panda loan to the Smithsonian Institute in Washington DC could boost its profile and "benefit Anglo-American relations," a statement from the archive said.
The zoo tried once more to convince the prime minister the following year, asking her to consider bringing them back a female panda during her trip to China. But she replied: "The history of pandas as gifts is unlucky."
Thatcher served as British prime minister from 1979 to 1990.