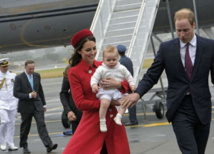 William and Kate - also known as the Duke and Duchess of Cambridge - are scheduled to arrive in Warsaw early afternoon, accompanied by 3-year-old Prince George and 2-year-old Princess Charlotte.
It will be the couple's first official visit to Poland and Germany, although William made a solo visit to Germany last year, a spokesperson for Kensington Palace, their official London residence, said ahead of the trip.
"In addition to meeting leaders in business, government and civil society, the duke and duchess will prioritize opportunities to meet the young people of both countries; from entrepreneurs, to mental health campaigners, and bright young talents in music and the arts," the spokesperson said.
Prince George and Princess Charlotte are expected "to be seen on at least a couple of occasions over the course of the week."
On Monday, the royal couple will meet Polish leaders at the Presidential Palace before visiting the Warsaw Rising Museum.
They are scheduled to travel to Gdansk on Tuesday, visiting a Nazi concentration camp, attending a city-centre street party, and meeting members of Poland's Solidarity movement.
They will arrive in Berlin around midday on Wednesday and also visit Heidelberg and Hamburg while in Germany, Kensington Palace said.