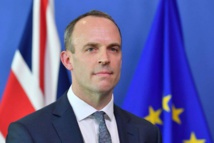 Raab said in an interview with The Sunday Times that the message had not reached EU negotiators that Britain would not be "blackmailed and bullied" by Brussels. He described elements of the draft deal as "the worst of all worlds."
Some figures in Brussels had shown "predatory" behaviour, he said, and argued that Britain needed to have a tougher approach.
May has presented the draft agreement with the EU as "the best deal for Britain," but criticism from all sides means she faces a huge battle to get the approval of the British Parliament.
If May's deal is voted down, then Britain faces the chaotic prospect of leaving the EU without an agreement on March 29, 2019.
"We need to be very honest with the country that we will not be bribed and blackmailed or bullied and we will walk away" if necessary, Raab said.
He also had sharp words for the Irish government, which he said had "behaved irresponsibly for political purposes" when it came to the thorny issue of the "backstop" - an agreement covering the status of the Irish border.