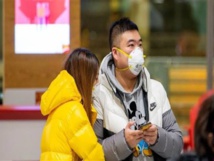 Foreign Secretary Dominic Raab is expected to confirm the extension at Downing Street after chairing a meeting of senior ministers to discuss the government's response to the Covid-19 pandemic.
Raab is deputizing for Prime Minister Boris Johnson, who is recovering after hospital treatment following his infection with the virus.
"I'm not going to pre-judge the formal decision that is going to be taken, however, I think everybody can see that we've been clear that we think that it is too early to make a change," Hancock told the BBC.
"And whilst we have seen a flattening of the number of cases - and thankfully a flattening of the number of deaths - that hasn't started to come down yet, and as far as I'm concerned is still far too high," he said.
"I understand those who are calling for an end to the lockdown or some kind of exit strategy to start now, but I think it's just too early for that," Hancock added.
The health ministry reported another 761 deaths linked to Covid-19 infections on Wednesday, taking Britain's total to nearly 13,000.
Government experts estimate that hundreds of thousands of people are infected.
Health experts have criticized the government's slow response to the crisis, the low level of testing and the poor provision of intensive care beds, ventilators and protective equipment.
Notepad