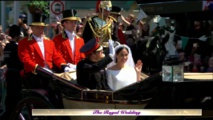 Curry won acclaim for his animated sermon on the "redemptive power of love" at the wedding in St George's Chapel at Windsor Castle on Saturday. His forceful religious address quoted Martin Luther King Jr and referenced the history of slavery.
"The British aristocracy may have wondered what was going on and there were certainly a few raised eyebrows," opposition Labour lawmaker David Lammy wrote for the popular tabloid newspaper The Sun.
"But when they take a step back they will realize it was one of the most significant sermons delivered to a global audience this century," Lammy wrote.
Curry is the first African-American to serve as presiding bishop of the Episcopal Church, which is part of the global Anglican church headed by Archbishop of Canterbury Justin Welby, the Church of England's most senior cleric.
"It just blew the place open, it was fantastic! And you could see people just caught up in it and excited by it," Welby told Sky News in a joint interview with Curry.
"Those [royals] that I spoke to were really excited by it," Welby said. "This was raw God."
Curry told the broadcaster he felt the love between Harry and Meghan was "contagious."
"You actually could feel it in the church," Curry said.
Many US and British Twitter users commented under the hashtags #BlackRoyalWedding and #RoyalWeddingSoBlack.
Harry and Meghan's star-studded wedding featured a London-based gospel choir and a black cellist.
Oprah Winfrey, Serena Williams, Idris Elba and Priyanka Chopra were among the celebrities who joined Queen Elizabeth II and the rest of the royal family at the wedding, along with Elton John, George and Amal Clooney, and David and Victoria Beckham.
"The hashtag #BlackRoyalWedding is trending and it's heartening to see how much pleasure the royal wedding has given to black people," London-based Vincent De Mello tweeted.
US-based Elliot Conner tweeted: "Yo, we had negro spirituals, a sermon featuring the words of MLK, and a black cello player. Don't tell me this wasn't a #BlackRoyalWedding!"
"Dr King was right," Curry said in his sermon. "We must discover love - the redemptive power of love. And when we do that, we will make of this old world a new world."
The New York Times said Curry had "made a big, generous, impassioned case for love as the most important thing there is, in religion and in life."
A US-based Episcopalian Twitter user suggested that Curry had toned down his performance on Saturday.
"Normally, this is the moment when Bishop Curry ditches the pulpit and starts strolling," Scott Gunn tweeted during the sermon.
Britain's royal family are no strangers to black clerics, despite what Lammy and other commentators said.
The second most senior cleric in the Church of England, John Sentamu, the Archbishop of York, is black and he regularly meets the queen and other royals.