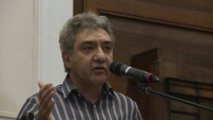 The professor of mathematics and computer science was accused of espionage. He had wanted to attend a conference in Iran last April.
The Campaign Against Sanctions and Military Intervention in Iran (CASMII), which Edalat founded, announced on Saturday that he was back in Britain. The London-based group said the detention of the peace activist was "a case of misinformation and misunderstanding" by Iranian security.
Iran does not recognize dual nationality, and Iranian citizens who carry another passport and are associated directly or indirectly with political, economic or media institutions abroad have come under scrutiny from the Iranian judiciary in recent years.
The case parallels that of Nazanin Zaghari-Ratcliffe, a dual British-Iranian citizen who was arrested at Tehran's airport in April 2016 following a family visit in southern Iran. The 38-year-old Thomson Reuters Foundation employee was accused of espionage and sedition and was sentenced to five years in prison in January.
Notepad