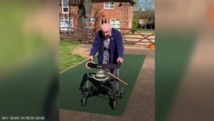 Ex-army captain Tom Moore finished 100 25-metre lengths of his garden, supported by his walking frame, to raise funds for NHS Charities Together because the "fantastic NHS workers are national heroes," according to his JustGiving page.
He had aimed to raise 500,000 pounds by completing the 100 lengths before his 100th birthday at the end of this month.
After more than 700,000 donations poured in from around the world, Moore had decided to start a second set of 100 lengths of his garden, his family said.
"The amazing British public have donated so much money for their beloved nhs it has been quite overwhelming," Moore's family wrote in a Twitter account opened in his name.
"Guess what ... I'm still going to keep walking. Do you want to join me virtually?" he asked Twitter users.
"When you think of who it is all for - all those brave and super doctors and nurses we have got - I think they deserve every penny," Moore told the BBC earlier.
The underfunded NHS is struggling to cope with thousands of critically ill people infected with Covid-19.
The health ministry reported 861 deaths linked to Covid-19 infections on Thursday, taking Britain's total to nearly 14,000.
Government experts estimate that many hundreds of thousands of people are infected.