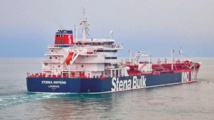 Port authority spokesman Morad Afifipur said the tanker was seized on Friday after colliding with an Iranian fishing ship and ignoring the crew's distress calls.
The fishing boat then alerted maritime authorities, who stopped the tanker in accordance with maritime regulations and escorted it to Bandar Abbas, Afifipur said according to Iran's Isna news agency.
The Iranian port of Bandar Abbas is located on the Strait of Hormuz, a key route for the world's oil supply.
Tensions between Iran and Britain have spiked since an Iranian oil tanker was seized off Gibraltar earlier this month for allegedly violating EU sanctions on Syria. Britain later accused Iran of harassing a British ship in the Gulf.
Iranian forces also have had numerous run-ins with the US military in the region.
British Foreign Secretary Jeremy Hunt, who attended a meeting late Friday of the government's emergency Cobra committee, told reporters he was "extremely concerned" and that there would be "serious consequences" if Iran did not quickly resolve the situation
The British government is advising vessels to avoid the Strait of Hormuz for an "interim period."
Stena Bulk, which is based in Sweden, said in a statement that the vessel was in "full compliance with all navigation and international regulations" and there were no reports of injury to the crew.
A second vessel - the Liberian-flagged Mesdar - was also briefly detained on Friday but was later allowed to continue its journey.
US President Donald Trump said his administration would be in contact with London.
He claimed on Thursday that the US "destroyed" an Iranian drone as it came within some 900 metres of the USS Boxer in the Strait of Hormuz.
Iran has denied the accusation, and the Revolutionary Guard released footage that it says disproves the claim.
Since Trump took office in 2017, the US has pursued a "maximum pressure" campaign on Iran, including pulling out of the nuclear deal world powers struck with Tehran in 2015.