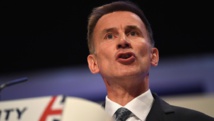 "This is obviously a difficult period. It was always going to be, a moment like this, but we should remember that a huge amount of progress has been made," Hunt said in Luxembourg ahead of talks with his EU counterparts.
"There are one or two very difficult outstanding issues but I think we can get there. Whether we do this week or not, who knows," he added.
His comments came after British Brexit Secretary Dominic Raab met EU Brexit negotiator Michel Barnier in Brussels on Sunday amid reports that a deal was close.
But following the talks, Barnier tweeted that "key issues are still open," notably regarding the Irish border issue. "There remain a number of unresolved issues relating to the backstop," a British government spokesperson added late Sunday.
No new negotiations are due to take place now before EU leaders meet in Brussels late Wednesday, according to EU sources. There, British Prime Minister Theresa May is expected to brief her 27 counterparts ahead of a Brexit dinner to which she is not invited.
The Irish border issue has proven the toughest aspect of Britain's EU withdrawal deal. London and Brussels must find a way of preventing the return of a hard border between the Republic of Ireland and Northern Ireland, which will leave the EU with Britain.
The failure to come to an understanding after 10 days of intense negotiations is "frustrating and disappointing," Irish Foreign Minister Simon Coveney noted.