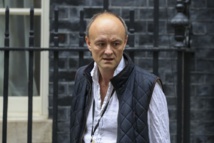 "I haven't commented publicly on the situation with [aide] Dominic Cummings as I have waited to hear the full details," Douglas Ross, under secretary of state for Scotland, tweeted.
Cummings, a key adviser to Johnson, on Monday defended his decision to leave London amid lockdown travel restrictions, saying he acted "reasonably."
Cummings travelled 430 kilometres from London to his parents' home on a farm in County Durham at the end of March. Both Cummings and his wife were ill at the time and suspected they had the coronavirus, and viewed it "was the least risk to everybody concerned if my wife and I had both been unable to look after our 4-year-old."
Ross said that "while the intentions may have been well meaning,"
Cummings' interpretation of the lockdown rules was "not shared by the vast majority of people."
"I have constituents who didn't get to say goodbye to loved ones; families who could not mourn together; people who didn't visit sick relatives because they followed the guidance of the government," Ross wrote.
"I cannot in good faith tell them they were all wrong and one senior adviser to the government was right," he said.
A spokesman for the prime minister said Johnson "regrets" Ross' decision to leave the government, the Press Association (PA) news agency reported.