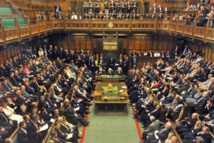 Adding to the pressure on Johnson, a bill to prevent Britain leaving the European Union without a deal is expected to receive royal assent on Monday, meaning the legislation can be implemented.
Johnson insisted early Monday, during a visit to Ireland, that Britain must leave the EU as planned on October 31, with or without an exit deal.
Senior opposition lawmakers have agreed to vote against his call to hold a snap election on October 15, making it almost certain that Johnson will not win the two-thirds majority he needs for the election to go ahead.
Johnson is expected to ignore the legislation to block a no-deal Brexit or challenge it in a British court.
Foreign Secretary Dominic Raab told broadcaster Sky News on Sunday that the government would "test to the limit what [the legislation] actually lawfully requires."
Johnson has claimed that the bill ruling out a no-deal Brexit "would mean years of uncertainty and delay" because it requires a further postponement of Britain's date for leaving the EU.
He has vowed to prorogue, or suspend, parliament this week - from as early as Monday - until mid-October and then submit his government programme for a new session.
Opponents accused him of trying to use prorogation to limit scrutiny of his plans and to push through a no-deal Brexit.
Notepad