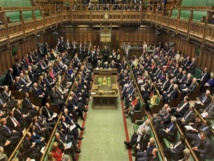 Johnson wants to create a legal "safety net" giving him the power to override a provision that would impose different post-Brexit customs rules on Northern Ireland from the rest of the United Kingdom.
The provision seeks to prevent the creation of border checks between Northern Ireland, which is leaving the EU as part of the United Kingdom, and EU-member the Republic of Ireland.
Critics, including five former British prime ministers and several senior Conservatives, warned that superseding part of the Brexit agreement could break international law and erode trust with the EU and other partners.
In a debate in the British parliament on Monday, Theresa May, Johnson's predecessor as prime minister, said the UK Internal Markets Bill was "putting the integrity of the UK at risk."
"I believe that the government's willingness unilaterally to abandon an international agreement or parts of an international agreement it has signed ... will lead to some questioning the willingness of the government to fully uphold the measures in the Belfast Good Friday Agreement," May said.
"That in turn will lead to some communities having less willingness to trust the UK government and that could have a consequence on the willingness of people in Northern Ireland to remain part of the UK."
The 1998 Good Friday Agreement underpins Northern Ireland's fragile peace process, which ended decades of sectarian violence.
Northern Ireland's devolved assembly added its opposition to the bill on Monday, warning that it could jeopardize the peace process.
The assembly voted by 48 to 36 for a motion by Irish republican party Sinn Fein calling for full implementation of the provision on Northern Ireland in the withdrawal agreement.
Human rights lawyer Amal Clooney resigned last week from her role as Britain's special envoy for media freedom, in opposition to the bill.
"I have been dismayed to learn that the government intends to pass legislation - the Internal Market Bill - which, if enacted, would, by the government's own admission, 'break international law,'" Clooney wrote in a letter to Foreign Secretary Dominic Raab.
Britain formally left the EU in January and entered a transition period until the end of the year, during which it still belongs to the EU single market and customs union.
The two sides have held several rounds of talks on post-Brexit trade arrangements, but negotiations appear to have reached an impasse.
Johnson has vowed to end the talks if no agreement is reached by mid-October, insisting that a no-deal Brexit would be a "good outcome" for Britain.