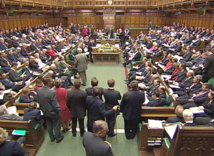 "We are working to reach an agreement on the final deal in good time before we leave the EU in March 2019," the spokesman said in London on Wednesday, insisting that the British government would meet its "long-standing commitment to a vote in both Houses" before Britain's departure from the bloc.
Earlier Wednesday, Davis appeared sceptical as to whether such a move would be possible, telling lawmakers that a deal with Brussels could come "at the 59th minute of the 11th hour."
Many observers in Britain took this to mean that a vote before the departure was not guaranteed.
Prime Minister Theresa May has repeatedly professed her optimism that Britain and the EU can come to an agreement on time.
However, divisions in her Conservative Party as well as stalled negotiations over key issues, such as the multibillion-euro settlement that remaining EU member states expect Britain to pay on leaving, have cast doubt on the British side's progress.