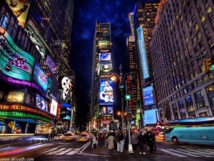 The Tony Award-winner can be seen belting out tunes from his fourth-floor flat in the Upper West Side of the city in videos shared on social media and by NY Daily News.
He serenades the street with "The Impossible Dream (The Quest)" by Andy Williams, a song from the Broadway hit "Man of La Mancha," the newspaper reported.
The 62-year-old performer has recovered from Covid-19, the disease caused by the novel coronavirus, he said on his website.
"When I finally got to the place where I was symptom free - I could take a deep breath without a cough - I started to sing for the health care workers and the responders," Mitchell told NY Daily News.
He begins his performances after stuck-at-home New Yorkers applaud, cheer and clang pots and pans for doctors and nurses out of their windows every evening.
Mitchell told the newspaper that many in the Broadway community have been affected by the outbreak, including the renowned playwright Terrance McNally who died in March of complications from the disease.
He also said most artists have been hit hard financially, as the closure of Broadway, currently set to last until June, comes at the cost of thousands of jobs and millions of dollars.
New York is the epicentre of the pandemic in the United States.
Notepad