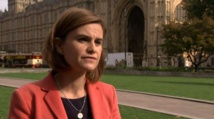 "A beautiful gesture from the mayor and people of Brussels," Cox's widower, Brendan Cox, tweeted early Thursday.
Jo Cox's sister and parents were scheduled to attend the ceremony in the Belgian capital as part of the city's campaign to name more public spaces after outstanding women.
"My parents and I are very pleased to be attending the inauguration of Jo Cox Square and are honoured that the city of Brussels has chosen to remember Jo in this way," Cox's sister, Kim Leadbeater, said in a statement via the Jo Cox Foundation.
"She had many happy times living there and made some deep and long lasting friendships," Leadbeater added.
The Mayor of Brussels, Philippe Close, was quoted by the foundation as saying that naming a square after Cox was "an honour for the city."
"Her investment in women's rights, in European construction and her love for Brussels was absolutely remarkable," Close added.
Cox, a 41-year-old centre-left Labour lawmaker in the northern county of Yorkshire, was shot and stabbed to death in June 2016.
Thomas Mair, 53, was convicted of her murder and sentenced to life in prison. The sentencing judge called the murder a political act.